Goths know that there are no religious requirements to be involved in this subculture, it's one of the things that makes Goth great, but many of us will be celebrating Christmas this coming year. Even as a non-Christian (from a non-Christian but Christmas-friendly family) I look forward to most festive aspects of this holiday, including spending time with family and making a lot of fattening foods. Of course, I intend to put my own spin on it, which basically means making everything Goth. Don't worry, this won't turn into a series, but this has been floating around my head for a while. Here, have my collection of ideas for making a Christmas tree look it's absolutely spookiest!
My own tiny contribution to the Christmas spirit. It's about a foot tall and stores my necklace charms. The topper is the Pirate Duck pencil cap that came with, I believe, a pack of band-aids. Isn't it adorable?
1. The tree itself
Gone are the days of pine trees being restricted to green as their only color. Nowadays you can buy plastic trees in all sorts of colors, including Gothy staples like red, silver, black and purple. Though nothing can really replace a true pine tree, for those of us who cannot afford a giant tree, who live where they are out of season, are allergic to the plant, or who have too small a space, plastic trees are a great option. Be warned, however. While some of these trees are lovely, they can also be expensive. Of course, you could also find one from a thrift store and spray paint it, if you want to save on costs (as The Dark Victorian suggests
here
.) They're also sold at different heights, for use almost anywhere. Chose a pine that represents your color scheme and fits your size restraints.
Purple Artificial Pencil Tinsel Tree from amazon - 90USD

Silver Iced Novelty Decorative Tree from Christmas Central - 70USD
Potted Red & Black Glitter Berry Tree from Seasons Galore - 200USD
Black Ash Trees from Volta Innovations - 244USD
2. The Lights
If you were a clever clogs, you could have picked up strands of oddly colored or shaped lights during Halloween time, where they come in many colors and tons of spooky shapes. If not, the trend of oddly colored lights is spreading and many mainstream stores will have other options besides white or multi-colored, or there is always the internet. If you want to go the traditional route and use candles, which I strongly advise you not to do (especially if you have pets, children in your home.) I hope that if you chose to use lit candles in your tree that you extinguish them before you leave the room so that you do not light your home on fire.
Black Cats Halloween Lights from Plow and Hearth - 17USD
Purple LED Halloween Lights from Newegg - 15USD
Jack-o-Lantern lights from Angelic Dreamz - 14USD
Purple Christmas Tree Lights from LED Christmas Lights - 25USD
3. The garlands
I'm not talking about the pine boughs that you hang over a door frame, I'm talking about the lengths of...stuff that you hang around a Christmas tree as background for the ornaments. Traditionalists may prefer edible garlands, made of popcorn and cranberries, but I personally get ants so that's straight out for me. Luckily, there are tons of other options. From lengths of lace to mardi gras beads to strips of lace to rosarie-styled beads, there are all sorts of things that one could drape around a tree.
Violet of Violet LeBeaux
uses jewelry to drape around her smaller tree as garlands, so feel free to improvise!
Diamond Cut Black Decorative Chain from Consumer Crafts - 20USD
Midnight Garden Lace Ribbon from CraftersGallery - 4USD
Elegant Silver Marbled Coin Christmas Garlands from Sears - 73USD
Silver Mesh and Sequins Christmas Garlands from Sears - 62USD
4. The ornaments
This is the most personal of all of this decorating, I think, and you'll be able to find lovely ones to match any theme. From Bats to Jack Skellington heads to plain black baubles to anything else, you're sure to find any kind you like. My mother told me that she liked when ornaments were not bought as a set, but when they were accumulated. Certainly, this gives an eclectic look, and you have to wait over time to build up a collection, but it can prove to be one of the most beautiful and varied in the end. This is also a time where it is easy to DIY items. Cross-stitched, felted, and beaded ornaments are immensely popular and can lend a unique touch to your Christmas tree. Of course, you're not going to find an ornament with the Bauhaus logo or Siouxsie Sioux's face on it from most mainstream retailers, but check websites like Etsy and you never know what you could find. (If you happen to want to make a Christmas tree with the band logos on it, send me pictures!)
Happy Halloween Christmas Ornament from Christmas Mouse - 7USD
Old World Black Cat Christmas Ornament from JKRingles - 8USD
Old World Twisty Ghost Ornament from Amazon - 7USD
Hanging Vampire Christmas Tree Ornament from Builders Studio on Etsy - 50USD
Santa Bat by Posiez on Etsy - 5USD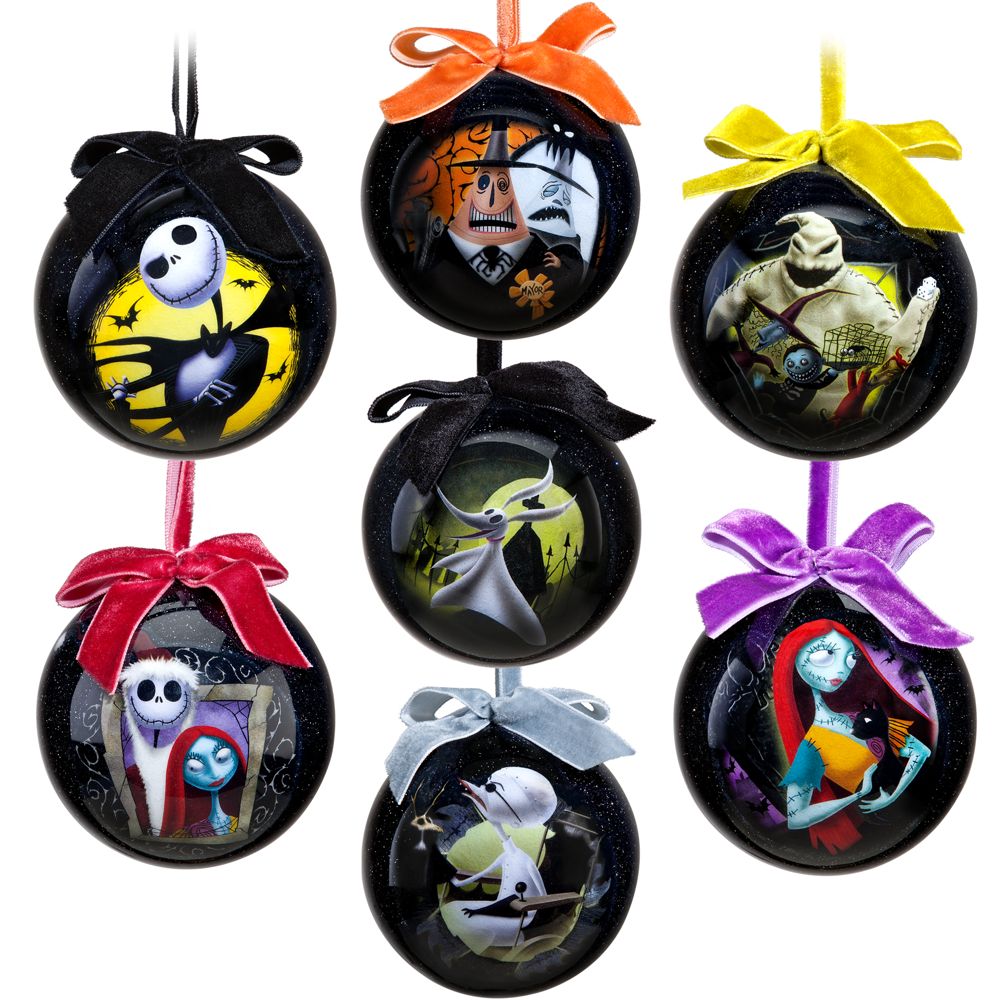 Nightmare Before Christmas Ornament Set from the Disney Store - 25USD
Shatterproof Black, Silver, and Red Christmas Ornaments from Seasons Galore - 40USD
Motherboard Christmas Ornaments from Thinkgeek - 11USD
Jeweled Black Tassel Christmas Ornament - 5USD
5. The topper
The average American household participates in this never ending debate every holiday season: Star or Angel? Luckily, our horizons are expanding on that aspect of Christmas tree decorating. Bows, bats, and action figures have been seen all over the web for great topper ideas. Halloween time generally has a lot of great ideas as far as this goes. I remember seeing, though I can't find a picture, that there was an image floating around of someone who had made (or found, I don't know) a nest, spray painted it black, put a Halloween crow in and placed that on top of their tree. This is a great time to be creative and make your own, so get those creative juices flowing!
Beauty from the Dark Tree Topper from Little Creepers - 50USD
Christmas Carolers Bow Tree Topper from Bonanza - 33USD
Halloween Tree Topper from Da Poland - 110USD

Black Feather Christmas Tree Topper Ornament from Cabin Fever on eBay - 5USD
Bonus: Outfit Post!
Dress: Fanplusfriend
Shrug, Leggings: Torrid
Shoes: Payless
Hair bow: Hot Topic
Necklace: Handmade
Corset: Goodgoth